Possibly The World's Greatest Titanium Pen... High-End And Ultra-Minimalist
Your Friends Will Envy You... GUARANTEED!
Saturday, January 24.
Dear Friend,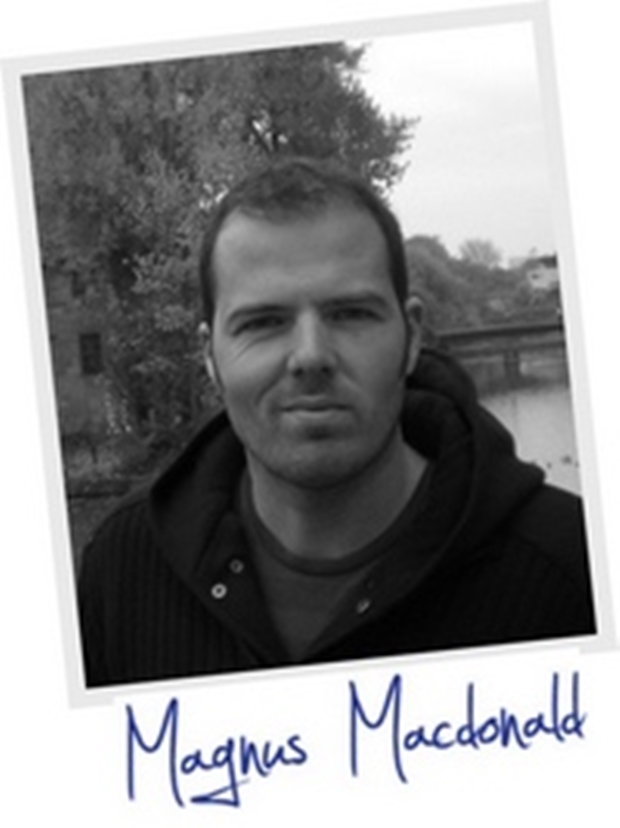 If you want access to the world's greatest titanium pen, then you're on the right page.
Before I continue – I have a shameless confession:
I think I might be a "pen snob".
This time last year I had only ever used ordinary cheap, throwaway plastic ballpoint pens.
Long story short:
I discovered the 'secret world' of high quality writing instruments. And, simply put, my life has never been the same since.
But there was a problem…
Even though I "saw the light" and now understood how absolutely crucial it was to use a high quality writing instrument. Something was wrong.
Of all the pens I was buying, I just couldn't seem to find "the one". I'm talking about a pen that is perfect in every way.
Every pen that passed through my hands always had at least one or two things that just didn't work for me.
Don't get me wrong…
These pens were not "bad" pens. They were good… and some of them were great!
But, if you've seen any of my previous products and ultra-successful projects, then you'll understand...
I Have Obsessive-Compulsive Personality "Flaws"...
And shockingly:
These genetic "flaws" of mine cause problems. And one of these problems is that, when something isn't right, it eats away at me until I feel like I'm going to explode!
I found myself with a whole bunch of pens - but none of them were exactly what I wanted in a pen.
One pen would be too thin to hold but be excellent in almost every other way... and another pen would be the right thickness, but would have external threads visible.
And predictably,
I Had No Choice But to Design and Create My Own Pen
Initially my strict and non-negotiable criteria didn't seem too bad – here's just some of what this pen had to have…
Made from Titanium... (Grade 5 of course!)
No "push-click" mechanism... (too complicated!)
No external visible threads... (too "messy" for my dream pen!)
No screws holding the pocket-clip on... (they just look flat-out UGLY!)
Click-cap... (screw-caps just aren't my thing!)
Ultra-minimalist... (because, well, there's nothing quite like it!)
Truthfully…
The above criteria are just some of the must-have and can't-do-without features the pen had to have.
I knew if this pen could be produced then it would be "the one" – it would be the only pen I would need… EVER!
It very quickly became apparent that producing such a pen might not even be possible. And, even if it could be produced, it certainly wasn't going to be cheap.
To be honest with you... the production cost was not a huge concern. Because, let's face it, there are hundreds of pens out there at $500+, $1000+, and way beyond that.
The problem was…
I was either going to create the ultimate pen – or nothing at all. There was no "middle ground" and I wasn't going to compromise. Period.
After hundreds of hours of designing, prototyping, testing, tweaking and possibly driving my machinist to the point of insanity... I discovered it was indeed possible to create this ultimate pen.
After months of sleepless nights, endless frustration and not-settling-for-anything-but-the-best it was finished.
And here's the BEST part…
Every single one of my super-strict criteria has been met (and in many cases exceeded!)
From having no external threads… or screws… all the way to having an ultra-minimalist design. It's all there.
I had finally created "the one"… and, to signify this, I have called this pen: The One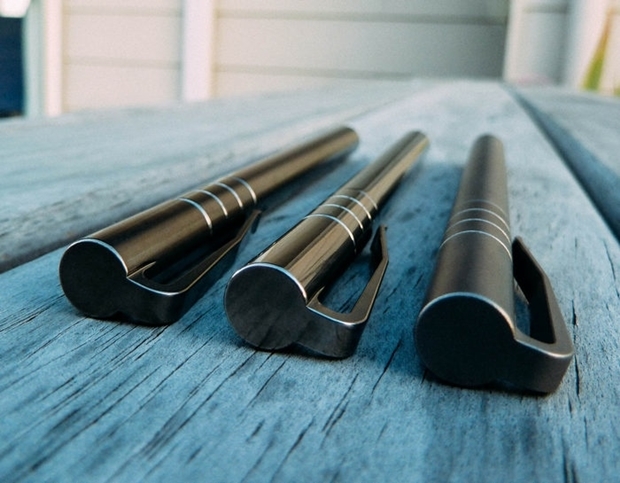 Now, before I continue…
You've got to understand 'The One' pen is not like other pens. And it's especially not produced like other pens.
No cheap tube or sheet was used in the body or clip.
Truth be told:
There are just three separate components to The One pen, and none of these components have been pressed, screwed or punched. None of this type of "hacking" of materials has been done.
Each of the three precision components of The One pen has been machined out of solid Grade 5 Titanium.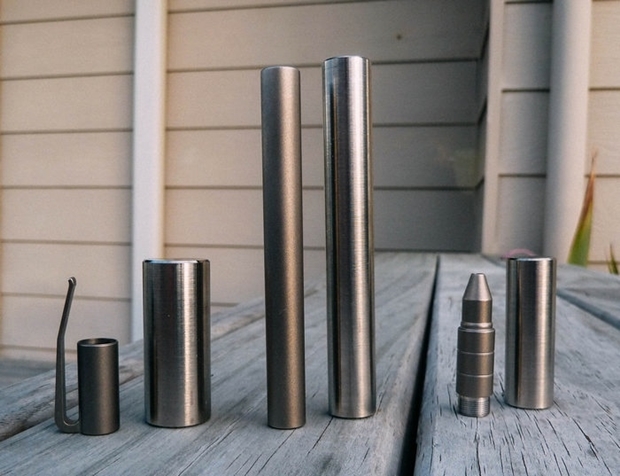 Each Of The Three Parts Of 'The One' Pen Is Precision Machined From Solid Grade 5 Titanium Bar...
I'm sure you're beginning to see The One pen is like no other.
But, truthfully, I've barely even scratched the surface in revealing this pen to you.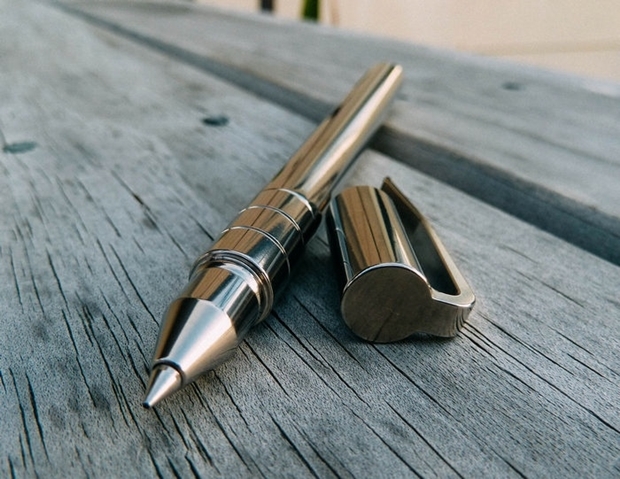 Unique "Click-Cap" And Integrated Pocket-Clip Combined With Ultra High-End Finish Virtually Guarantees You're Going To Be The ENVY Of Your Friends And Family!
So, before I continue…
It's important you understand what The One pen is all about and exactly why I am rather arrogantly claiming it to be the world's greatest pen. So let's now get down into the "nitty gritty"...
Here's what you need to know:
"Click" Cap
While screw-off caps and magnetic caps have their place… it's certainly not on The One pen.
In maintaining ultimate simplicity and functionality the pen had to boast a super-slick "click" cap.
The "click" cap mechanism on The One pen has been machined to aerospace-level tolerances. This ensures a swift, easy, and satisfying "click" when you use it.
I should point out I have absolutely tested-to-death this mechanism. It's never going to wear-out.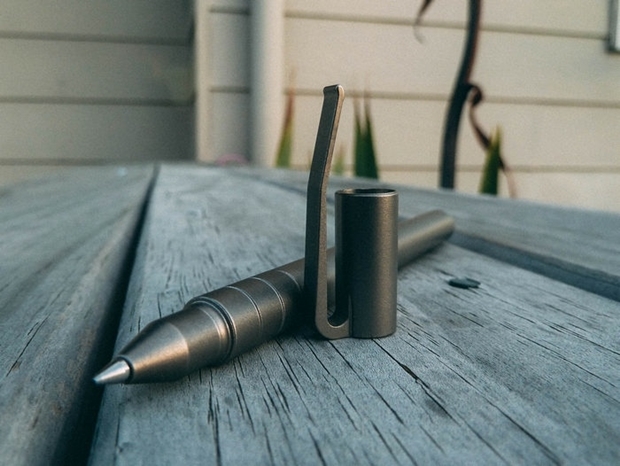 One-Of-A-Kind Cap Machined From A Solid Piece Of Grade 5 Titanium Gives Your Extreme Boasting Rights!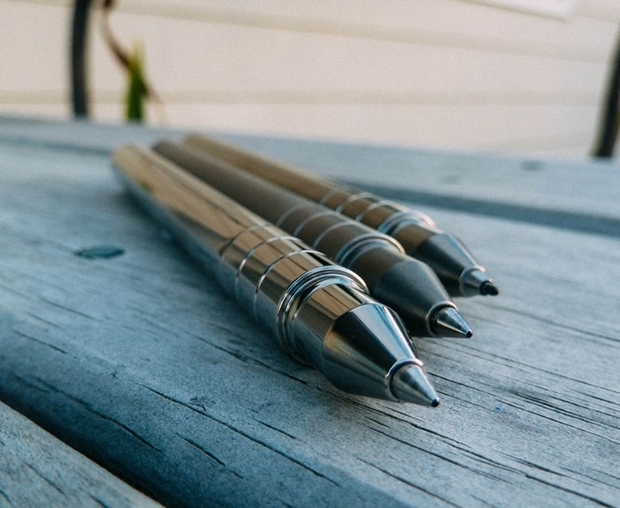 After Months Of Designing And Testing - 'The One' Pen Has Machined To Aerospace Tolerance Levels So, To Be Blunt, You're Possibly Getting The Greatest Titanium Pen Ever Produced...
Made Entirely From Solid Grade 5 Titanium
Unlike most other pens with a metal body… The One pen is precision machined from solid Grade 5 Titanium round-bar.
The One pen does not use "cheap-and-cheerful" hollow tube like most others. No. The entire body of this pen is machined from solid Grade 5 Titanium.
Costly? Yes... but I just couldn't settle for producing anything less.
For The One pen this was a "no brainer" decision. I simply didn't want anything pressed or screwed into the end of the pen.
So, believe it or not, to get The One pen exactly how I wanted it required high-pressure drilling of solid titanium bar (and a whole load of other headaches I won't get into here).
Not many people are willing to do this. Not many can do this. And, as you can imagine, it's not cheap to do!
But, like I said, I wasn't going to settle for anything less than the BEST.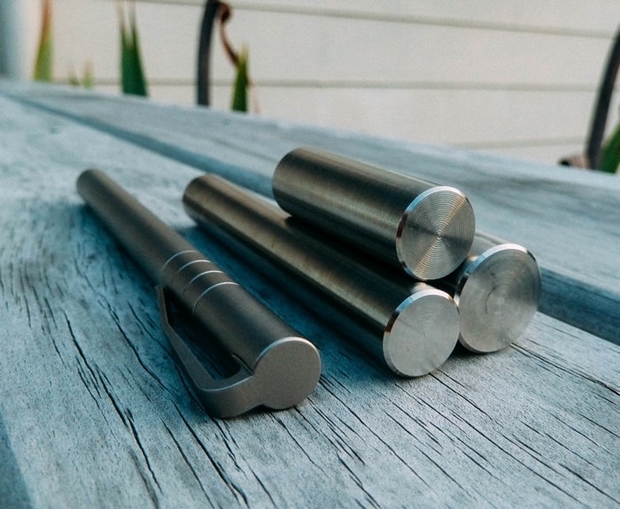 Each Part Of YOUR Pen Is Going To Be Machined Out Of Solid Titanium Bar Just Like The Pieces On The Right In The Image Above.
"Hidden" Cap Groove
Where the cap meets the pen body has been carefully designed to mimic the finger grooves.
The result? When the cap is in the pen, it blends in with the finger grooves so it's hard to tell where the pen ends and the cap begins. It's essentially "invisible".
It took a lot of obsessing over "little details" to get this done – but the result is nothing short of mind-blowing.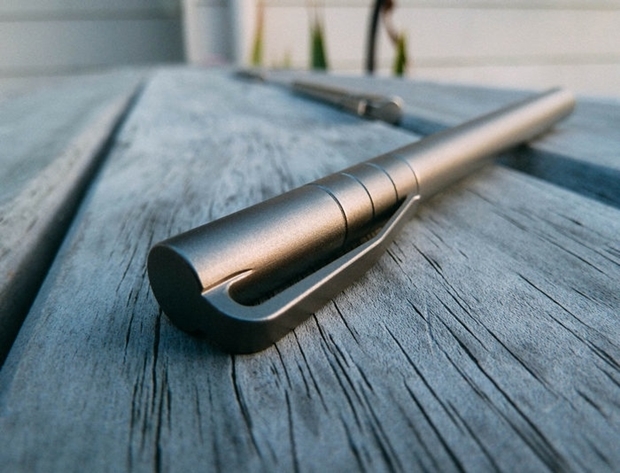 After Much Blood, Sweat And Tears... I Managed To Ensure The Cap Of The Pen Is Not Only The Same Width As The Main Body... But Where The Cap Meets The Pen Body Looks Just Like Another Finger-Grip Groove!
"Hidden" Pen-Opening Groove
Just as I mentioned above about the seam where the cap meeting the body of the pen becomes "invisible"... I have done the same with the tip and main body of the pen.
When the tip is screwed onto the main body… it is virtually impossible to tell where this seam is.
Again, this is a perfect example of the kind of extremes I've gone to in producing The One pen.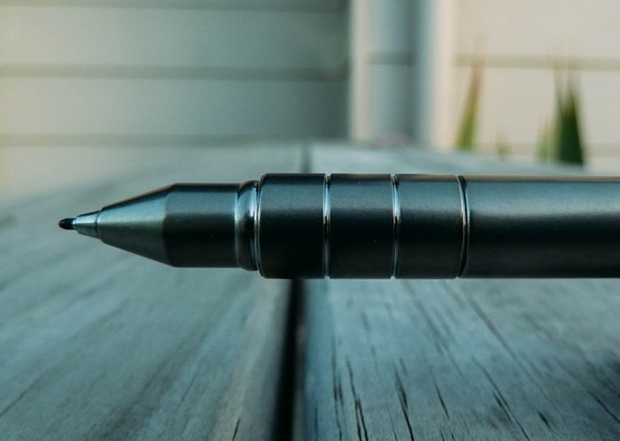 The Subtle "Seam" Where The Tip Screws Onto The Main Body Of The Pen Disguises Itself As Another Finger-Grip Groove...
Super-Smooth Refilling
To change the refill in The One pen it's simply a case of unscrewing the custom thread... inserting a new refill... and then screwing together again.
It doesn't get much simpler than that!
Important:
The One pen is designed to accept Mont Blanc "FineLiner" and "RollerBall" refills only.
If you've not used these two refills before - then you're in for a treat! And, if you have, then you'll be familiar with the almost magic-like writing experience of these two refills.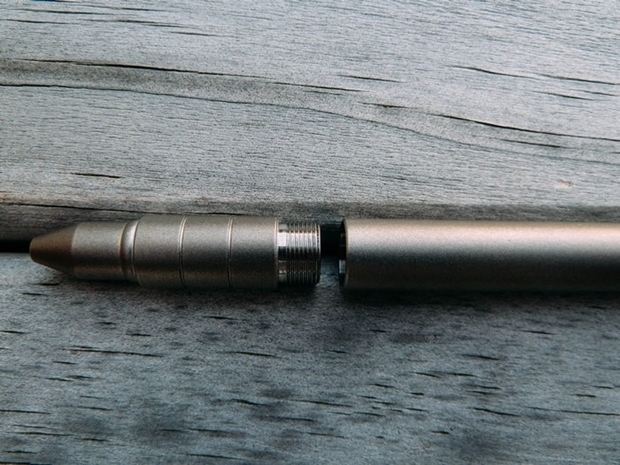 The Simple Custom Thread Allows You To Switch Out Refills Quickly And Easily!
Integrated Clip
One of the most unique features of The One pen is the precision machined integrated clip into the cap.
This pen needed to have a pocket-clip. I know it's a hell of a lot easier to produce a pen without a pocket-clip... but, again, this is not about making things easier. It's about producing the ultimate pen... at any cost.
As I mentioned earlier… any sort of screws or press-fitting of components on this one-of-a-kind pen was absolutely out of the question.
As a result The One pen has what is probably the most unique cap design in the world of writing instruments.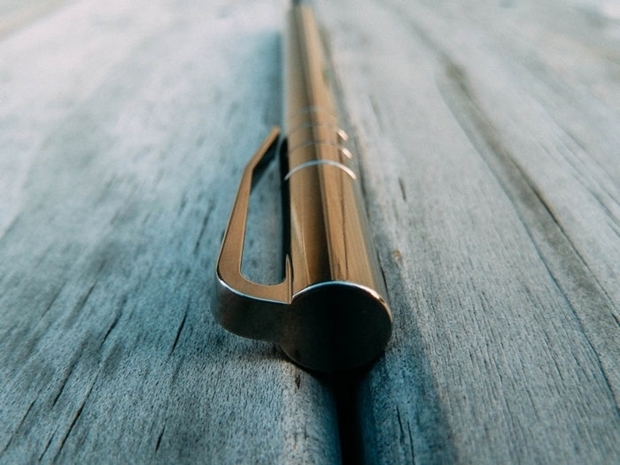 The Integrated Cap Will Have Your Friends Literally BEGGING YOU To Tell Them Where You Got This One-Of-A-Kind Pen!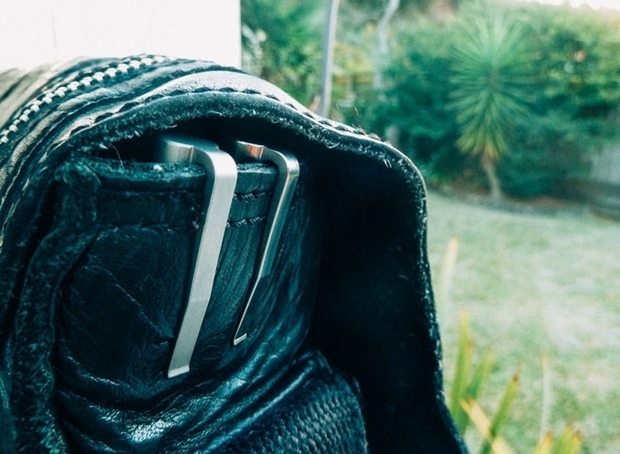 The Unique, Integrated Clip Allows You To "Clip-and-Go" In An Instant!
Cap and Pen Body Width
The size of the cap on The One pen was an absolute non-negotiable.
If this part of the design couldn't be machined the way I wanted... it would be a "deal-breaker" and the entire project would be cancelled.
The cap had to be the same diameter as the pen body. I know this is only aesthetics and doesn't affect the function of the pen – but it was important.
The One Pen had to look as good as it performed.
And, even though it took more time effort and energy than it should have... I was able to get the cap to be the same width as body of the pen.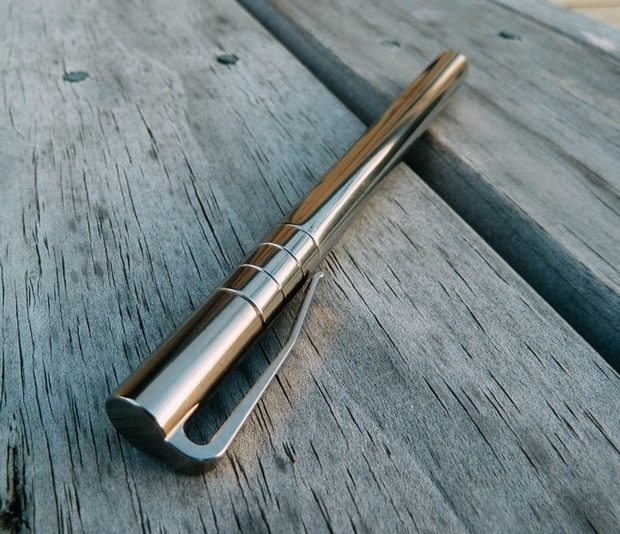 The Cap, Tip And Main Body Are The Same Width So As To Be Super-Functional... But Also Provide You With The Ultimate Pen To Show Off With!
True Three-Piece Design
I've seen many "three piece design" pens – but they were never a TRUE three-piece design.
There was always screws or magnets or pieces pressed into the end. The total number of pieces was always more than three (if you took the pen apart fully).
Not so with The One pen...
The One pen is a TRUE, ultra-minimalist three-piece design. There is truly only three components.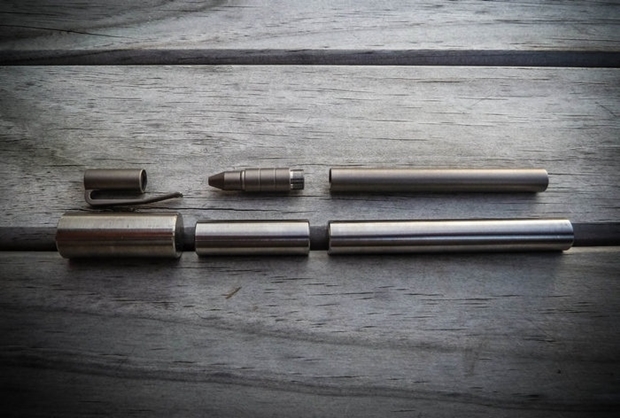 The Highly-Complex, Precision Machining Process Is What Takes This Pen From Solid Grade 5 Titanium Bar To... Super-Slick, Light-Weight And Ultra-Minimalist Design!
Super-Clean End Design
I made a conscious decision not to have the cap fit on the opposite end of the pen.
This was for two important reasons:
This would upset the balance of the pen when you're using it.
and…
It would require an "ugly" end-design to the pen to accept the cap. There was no way I was going to let this happen.
The result is something you may not be able to find anywhere else - a completely sealed end with no parts screwed or pressed into it.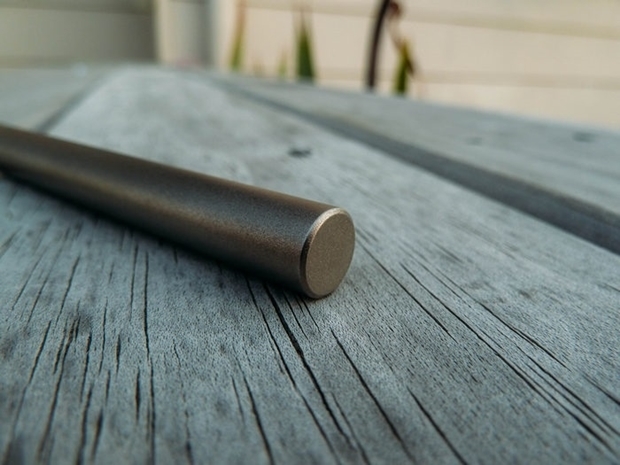 While Most Pens Use Hollow-Tube For The Main Body... The Body Of 'The One' Pen Is Machined Entirely From A Solid Piece Of Titanium (This Ensures There Is No Ugly Pressed Or Threaded "End Cap"!)
Light-Weight and Perfectly Balanced
I've used pens that were too "front-heavy" and pens that were too "rear-heavy".
I designed, tested and tweaked The One pen until it reached a "Goldilocks" balance.
Here's the crazy thing...
So much machining goes into The One pen that 84% of the titanium is machined away!
Although The One pen starts as solid titanium round-bar weighing almost 100 grams (around 3.4oz)... so much material is removed that the result is an ultra light-weight pen unlike anything else available!
The One pen (without a Mont Blanc refill installed) weighs in at just 15.5 grams (around 0.55oz).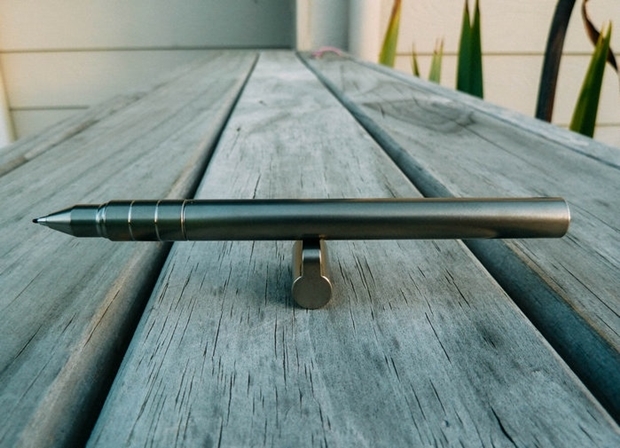 The Amount Of Material Machined Away From The Originial Titanium Round Bar Is Truly Mind-Boggling... But The Result Is Something You Can Really Show Off To Your Friends!
Size Matters
The diameter of The One pen is 9.0mm (around 0.35").
Not 8mm or 8.5mm or 9.5mm or 10mm. After loads of testing of various thicknesses exactly 9mm was the "sweet spot" for this pen.
Now I understand if you prefer a "skinny" pen or a "chunky" pen. Everyone can have their preference.
But, for The One pen, there simply can only be one diameter. And after a lot of testing and tweaking… 9.0mm (0.35") is the diameter.
The length of The One pen is a not-too-big-and-not-too-small size of 118mm (around 4.65").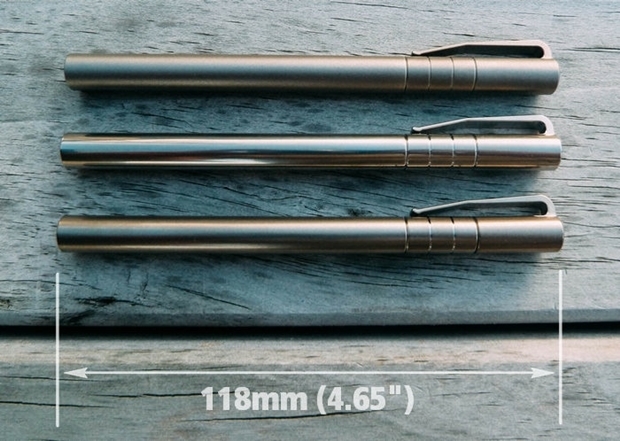 At 118mm (4.65")... The Length Of The Pen Is In The "GoldiLocks" Range Of Not Too Small... Not Too Big... But "Just Right!"
Three Incredible Finishes
After a boat-load of time spent developing and testing various finish methods - I've decide to offer you three unique finishes on The One pen.
The first finish is my original, tried-and-tested, buttery-smooth Matte finish. It's a gun-metal grey colour, looks better and better as it ages, and I'm calling it the 'Stealth' finish.
'Stealth' Finish: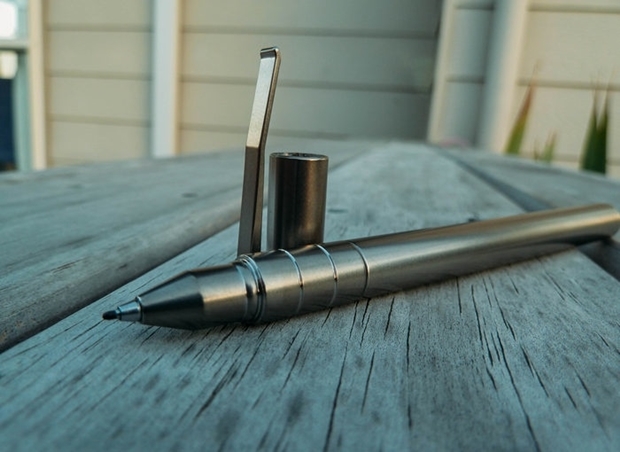 The "Stealth" Finish Is A Buttery-Smooth, Satin Finish That Looks Better And Better The More You Use It!
The second finish is something completely new for me but, I must admit, it's absolutely incredible to touch, feel and use.
It is a combination of tumbling and glass-bead blasting to give a "textured" finish. You have to feel it to really understand it. I call it the 'Blast' finish.
'Blast' finish: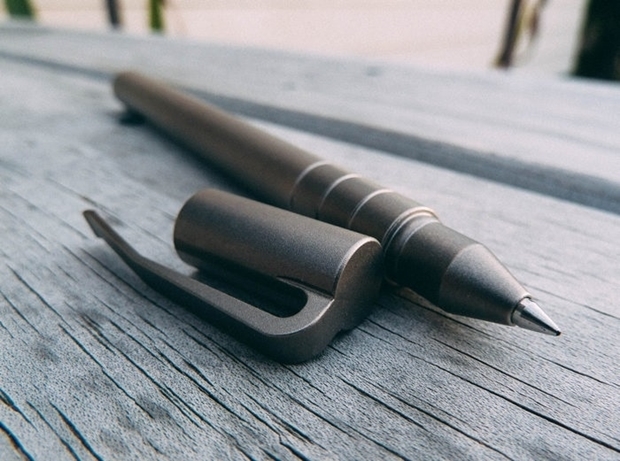 The "Blast" Finish Is Attained By Blasting Microscopic Glass Beads At The Surface Of The Pen... The Result Is A Super-Matte, High-Quality "Textured" Finish That Feels Incredible To Use!
The third finish is probably my favourite (but, hey, I'm a sucker for ultra-minimalist... even on surface finishes!). It's a pure, bright semi-polished finish.
Rather than being a pure-polish this is a smooth, high-luster semi-polish finish. I simply call this the 'Semi-Polished' finish.
'Semi-Polished' finish: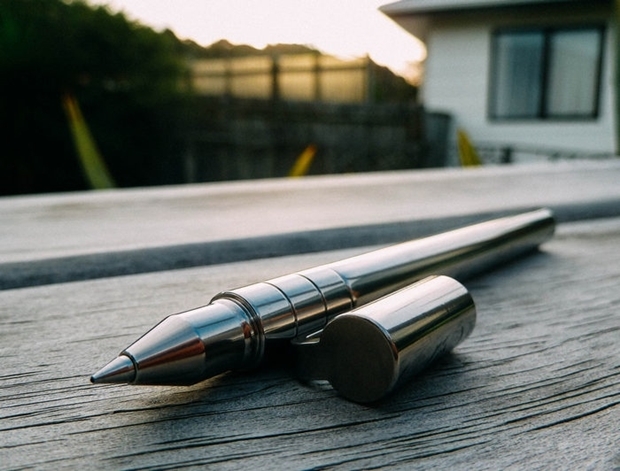 Simply Put: You're Not Going To Find Many Titanium Pens That Boast This Incredible Finish - All I Can Say Is You've GOT To See It In Person To Fully Appreciate It. Enough Said.
Before I continue...
From previous projects I've managed to gain hundreds upon hundreds of die-hard Customers and raving fans!
I think it's important you know what you're letting yourself in for when you order The One Pen. Here's just a small sample of the frequent emails and messages I receive all the time from customers: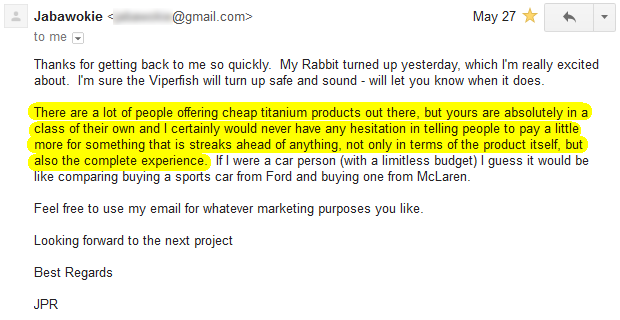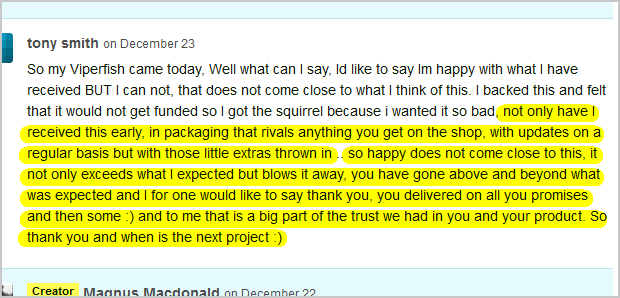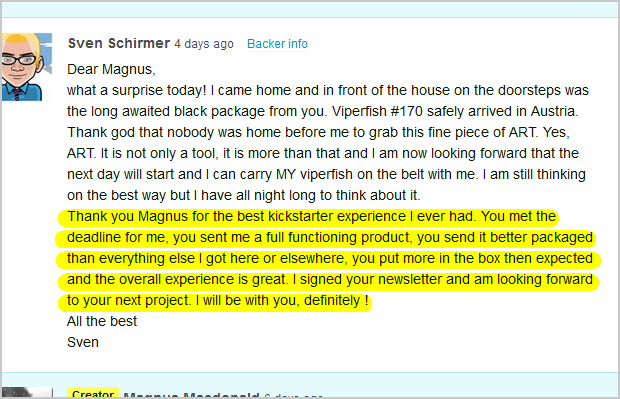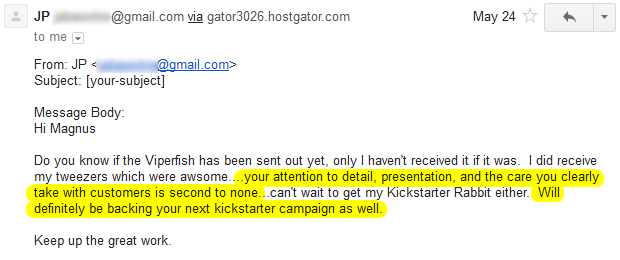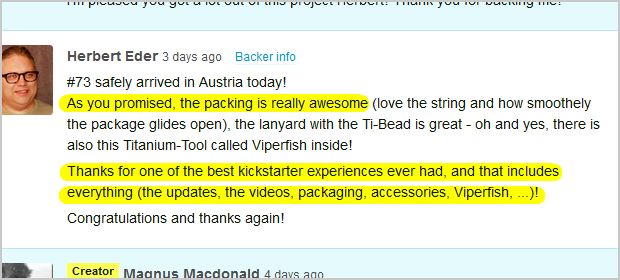 One more thing…
As with my previous super-successful projects – you're going to be receiving my personal unconditional, lifetime guarantee.


If you find The One pen is just not for you, then let me know and I'll give you back your money. No questions asked.
In fact, I can do even better for you...
Use The One pen for as long as you like. Test it for a day, a week and month, or even a year. And, if your experience of using the pen doesn't have you screaming with delight.. you can return it to me at any time. And I'll refund the entire amount to you.
Let's cut to the chase…
The cost to produce each The One pen is significant – but you probably already gathered that.
So the only way for me to get The One pen into your hands is by ensuring I have a minimum quantity produced.
Here's what to do…
Take a look at the various finishes available and once you've selected the option you want… simply click on the 'Order Now' button and "lock in" you're pen RIGHT NOW...
"Stealth" (Smooth Matte) Finish Titanium Pen - SOLD OUT
Click Here to order for $260... just $189
(Check back soon...)
"Semi-Polished" (Bright Polish) Finish Titanium Pen - SOLD OUT
Click Here to order for $260... just $189
(Check back soon...)
"Blast" (Glass Bead Blasted) Finish Titanium Pen - DISCONTINUED
(This finish is no longer offered)
Don't risk missing out… you must "lock in" you're The One pen by ordering right now.
One vitally important last point:
Ordering Now Is The ONLY Way You Can Guarantee You Get YOUR Pen
I can't guarantee I'll produce The One pen again after this.
And even if I did – it's almost certainly not going to be at this *EXCLUSIVE* low price.
Sincerely,
Magnus Macdonald
P.S. Remember ...you're getting access to what is possibly the world's greatest titanium pen. Nothing like this exists anywhere -- a true, EXCLUSIVE World First!
P.P.S. Finally ... When you click the 'Order Now' button you're also going to be getting my 100% Risk-Free Unconditional LIFETIME Guarantee! If you're not absolutely blown-away with your pen when you rip open the package just let me know ...and I'll personally refund you every single penny you paid. No questions asked.
P.P.P.S. One last thing ...I urge you not to MISS OUT on securing your The One pen... because I simply can't guarantee I'll produce this pen ever again after this. For this reason it is critical you click the 'Order Now' button RIGHT NOW!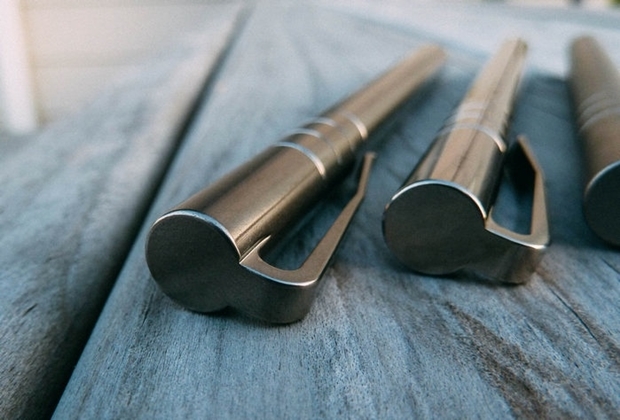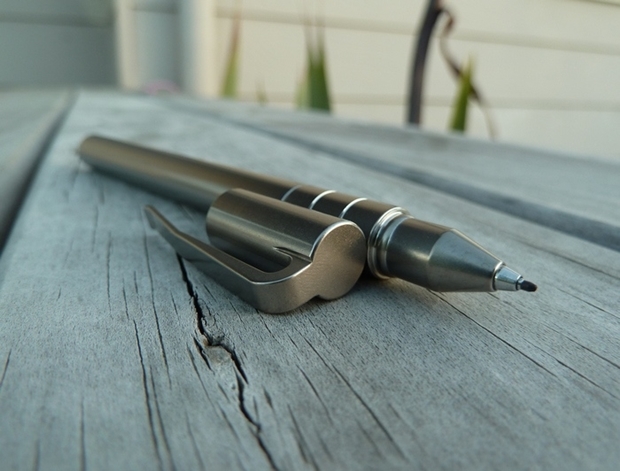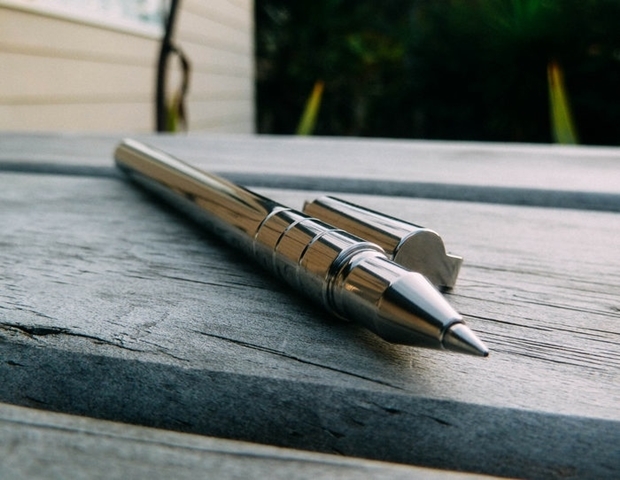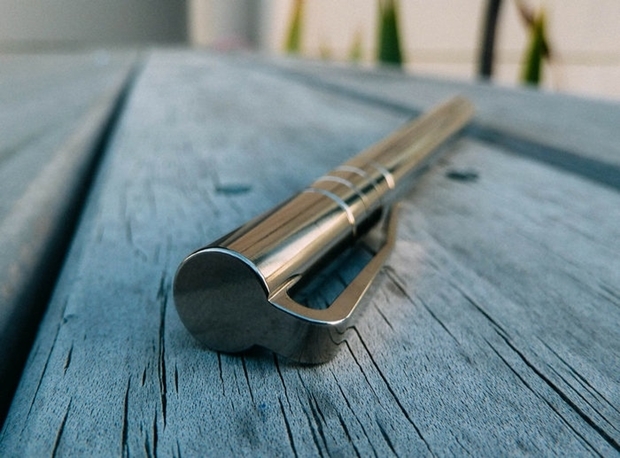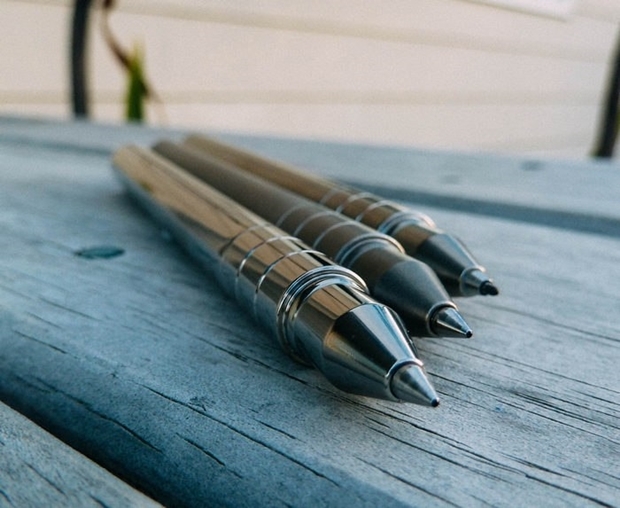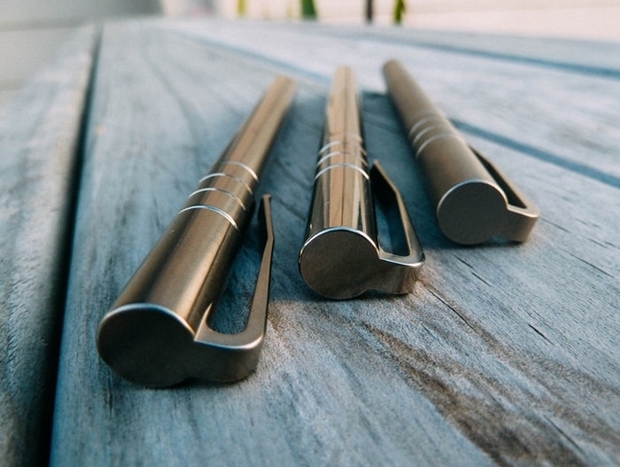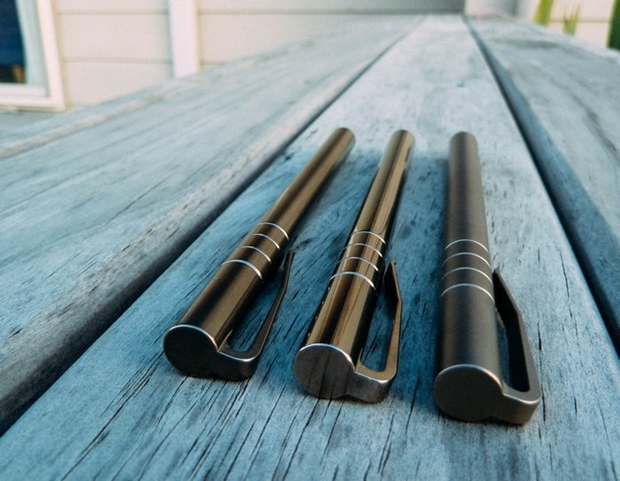 Currently I am not able to include refills as it is proving difficult to source the Mont Blanc refills in larger quantities.
(You will find the above Mont Blanc refills available from thousands of places... from your local stationary store to small online stationary stores to the "big dogs" of Amazon and eBay. Oh, and not forgetting the main Mont Blanc website)
Yes - for sure. The Mont Blanc refills are very high quality and so the ink is fast drying. You'll find the two Mont Blanc refills the pen accepts should work very well for you.
Simple: I am very, VERY confident of the quality of what I make.
I can't see any reason why I wouldn't offer such a guarantee to you. It's difficult for you to see the quality of the The One pen BEFORE you physically receive it.