Finally, A Prybar To Beat 'Em All... ...
"James Bond Doesn't Carry
A Pry-Bar, But If He Did..."
Keep Reading This Page To Discover... How You Can Get Access To
The World's First Titanium Pry Bar... Designed Specifically
For People Who Are NOT Hardcore Outdoor Types!
From: Magnus Macdonald, CogentIndustries.com
Dear Friend,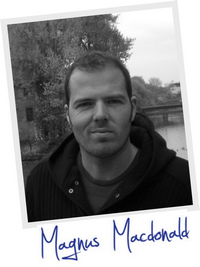 If you're looking for the ultimate pry-bar, then you've just found it!
This is probably the first product I've made where I didn't design it from scratch.
Long story short:
I was approached by someone who had a pry-bar design (a pry-bar I thought was VERY COOL indeed!).
He wanted to make this pry-bar - but did not have the resources to do so. So I cut him a deal.
I said, "I'll make your pry-bar (with a few changes)... give you a couple of them for free... and offer the rest to my own customers". It was a deal.
But here's the thing...
I ended up changing the design significantly - but the ESSENCE is still there. I took the original, "industrial looking" design and decided to make it more subtle.
The truth is:
Most pry-bars are typically found in workshops, taken hiking and so on - but...

What I wanted to do was create a pry-bar that would be at home even in a city.
In short:
If James Bond was ever to carry a pry-bar, then this would be it. Seriously.
I present to you... "Mr Pry"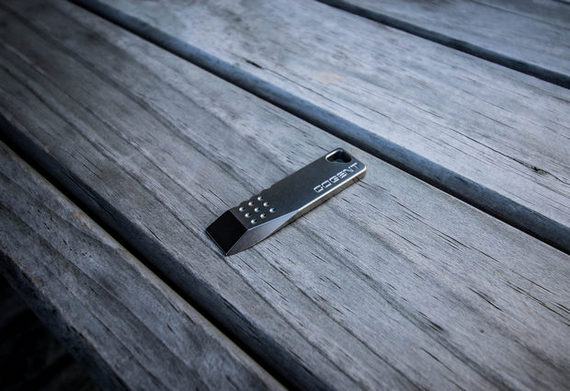 Let's get into the "dirty little details" of this one-of-a-kind pry-bar...

The very first thing you need to know about the Mr Pry is that it's made from Grade 5 titanium.
If you know anything about me, then you'll probably know...

And so, of course, the Mr Pry is machined from a solid billet of Grade 5 titanium. In a word: It's super-light and super-strong.
The Mr Pry also boasts a...
Box-Cutter Function

I must confess to you:

Before this pry-bar was made, I really was never a big pry-bar user. I found I just never used them enough.

But all that changed with the Mr Pry.

The addition of the box-cutter function has me using the Mr Pry pretty much daily.
The box-cutter function is a non-sharp edge along the side of the Mr Pry.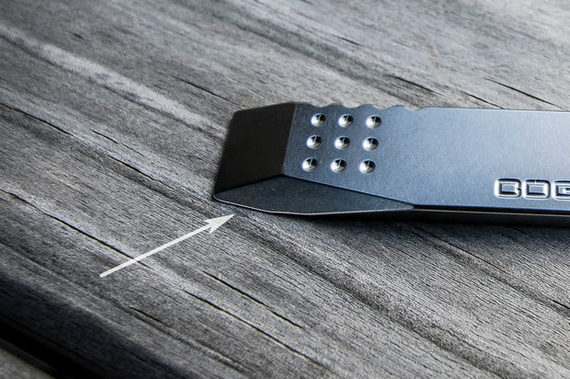 Box-Cutter Finger-Grips
The Mr Pry has heavy-duty finger grips along the side.

This helps guarantee your fingers don't slip on the Mr Pry when cutting through packaging and boxes.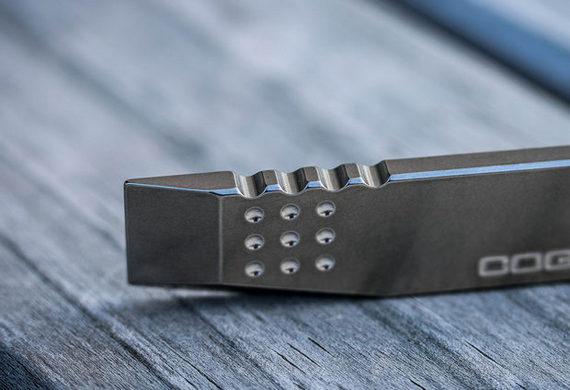 Unique Keychain Hole
The Mr Pry has a one-of-a-kind keychain hole in the corner.
Not only is this hole super-subtley tucked into the corner - but it's also bevelled on BOTH SIDES (yes I really have gone to that level of detail!)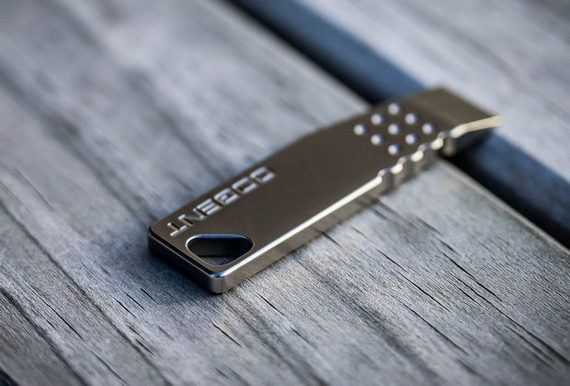 Bevelling
If you've seen most pry-bars, then you'll be aware that hardly any have bevelling - mostly sharp edges and corners all around.
That just wouldn't do for the Mr Pry.
Yes, the addition of bevelling dramatically increases the cost to produce the Mr Pry - but I just HAD to have it.
The reason for this is that, as I mentioned previously, this is a pry-bar that had to look damn smart.
And so, to help get this look, bevelling was a non-negotiable.
Not only that, but...
The bevelling is also on the underside too! (...you're probably beginning to understand my obsessive-compulsive personality flaws now, right?)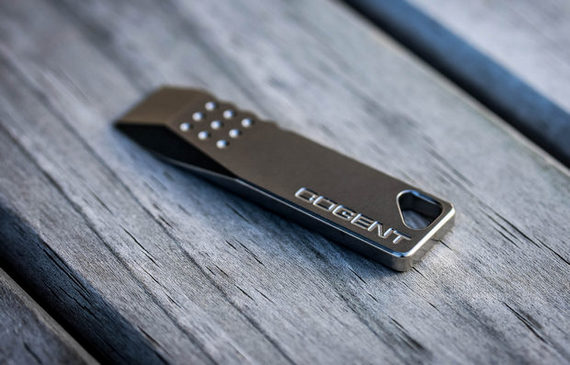 Subtle Thumb Grip
The Mr Pry has a smart-looking thumb-grip pattern.
Even though the surface finish I put on the Mr Pry -- using my proprietary methods -- gives it a nice, non-slip finish... the thumb-grip is there as backup.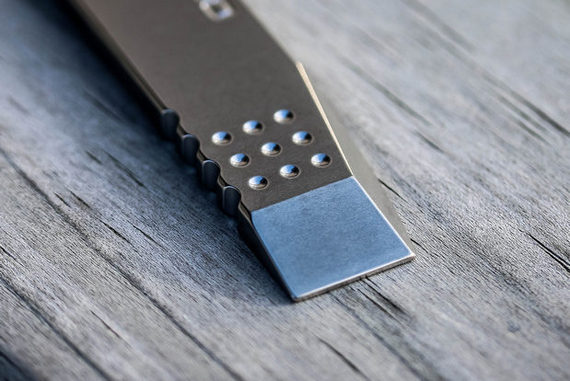 Dimensions and Weight
The Mr Pry is machined from 4mm (0.160") Grade 5 titanium - I felt this was a good balance between not too chunky and not too skinny.
The length of the Mr Pry is 60mm (2.4") X 16mm (0.63") wide.
The dimensions were chosen so as to be big enough to pry open whatever you need to... but small enough to go almost unnoticed on your keychain.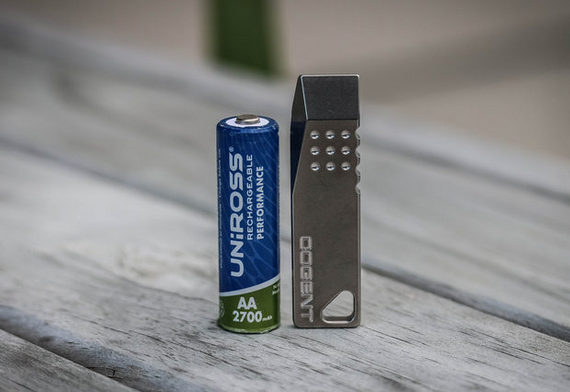 Here's The Mr Pry Next To A Standard 'AA' Battery...

The bottom line is..
You probably knew as soon as you saw the Mr Pry that you NEEDED one.
Hell, I need one and I've never really used a pry-bar until I made the Mr Pry!
Now, before I continue...
I want to offer you my 100% risk-free unconditional lifetime guarantee.
I have MASSIVE CONFIDENCE in my products and that why I'm providing this Risk-Free guarantee.


Simply put...
If you are not 100% satisfied... all you have to do is send the Mr Pry back to me and I will refund every penny to you, no questions asked!
But like I said ...I know you will be blown away by the quality and function of your Mr Pry.
In fact, I can do even better for you...
Use the Mr Pry for as long as you like. Test it for a day, a week and month, or even a year. And, if you're not screaming with delight when you use your Mr Pry, then you can return it to me at any time. And I'll give you a FULL refund. No questions asked.
Yes, I Want To Order My Mr Pry!
I also understand this price is available only right now and Magnus cannot guarantee it will be available again.
I am also aware I will be getting Magnus' personal 100% Unconditional LIFETIME Guarantee when I order my Mr Pry - and this is why I am ordering by clicking the 'Order Now' button below RIGHT NOW: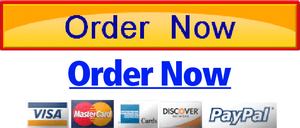 Don't risk missing out ...you need to "lock in" your Mr Pry by clicking the 'Order Now' button RIGHT NOW!
Sincerely,
Magnus Macdonald
P.S. Remember ...you're getting access to the ultimate, one-of-a-kind, fully-titanium pry-bar. Nothing like this exists anywhere -- a true, EXCLUSIVE World First!
P.P.S. Finally ... When you click the 'Order Now' button you're also going to be getting my 100% Risk-Free Unconditional LIFETIME Guarantee! If you're not completely blown-away when you receive your Mr Pry just let me know. I'll personally refund you every single penny you paid. No questions asked.
P.P.P.S. One last thing ...I urge you not to MISS OUT on securing your Mr Pry. I can't guarantee I'll produce them ever again (and certainly not for this price). For this reason it is critical you click the 'Order Now' button RIGHT NOW!
Yes, I Want To Order My Mr Pry!
I also understand this price is available only right now and Magnus cannot guarantee it will be available again.
I am also aware I will be getting Magnus' personal 100% Unconditional LIFETIME Guarantee when I order my Mr Pry - and this is why I am ordering by clicking the 'Order Now' button below RIGHT NOW: